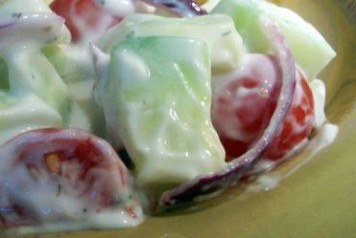 Ingredients:
3 large vine ripe tomatoes, cut into wedges
3 medium cucumbers, peeled and sliced thin
1 medium green bell pepper, cut into thin strips
1 small red onion, cut in half and sliced thin
1 serrano pepper or jalapeño, chopped fine
Yogurt Dressing
1 cup yogurt
1/8 cup apple cider vinegar
1/8 cup red wine vinegar
3 tablespoons extra virgin olive oil
¼ cup sugar
2 teaspoons prepared horseradish
1 teaspoon celery seed
1 teaspoon mustard seed
2 teaspoons flat leaf parsley, chopped fine
Kosher salt and fresh-cracked black pepper
Instructions:
In a small mixing bowl combine vinegars, yogurt, olive oil, sugar, salt, horseradish, celery and mustard seeds, and parsley. Set aside. In a large glass bowl, combine cucumbers, bell pepper, red onion, serrano (or jalapeño) and tomatoes. Pour the yogurt mixture over the vegetables and then season with salt and pepper to your liking. Fold together, stir and cover with plastic wrap. Refrigerate for several hours. Use a slotted spoon for serving to drain excess liquid.