Great Southern Restaurants is proud to be Pensacola's most awarded restaurant group. Over the past four decades, our restaurants and staff have won numerous awards, including the Independent News' Best of the Coast and the Pensacola News Journal's Best of the Bay awards, several of Florida Trend's Golden Spoon awards, Wine Spectator's Award of Excellence, WSRE's Best Entrée, among others, and Jackson's is particularly distinguished by securing the DiRoNA Award of Excellence and being inducted in the Golden Spoon Hall of Fame.
As Seen on Television
Great Southern Restaurants have been featured on a number of national television shows including  MSNBC's "Morning Joe," ABC's "Extreme Home Makeover," the Food Network's "Andrew Zimmern's Bizarre Foods" and "Emeril's Florida," as well as the History Channel's "American Pickers" and "Picked Off."
Other Cool Things
The Fish House, Atlas Oyster House, the Deck Bar and Jackson's Steakhouse have all had a number of opportunities to participate in many "once in a lifetime" things including preparing a luncheon for the King and Queen of Spain, preparing dinner at the James Beard House in New York – 4 times! –, hosting a number of political figures for rallies and special events, hosting celebrities from all walks of life for drinks, lunch and dinner and serving as the go-to spot for national news broadcasts.
Celebrity Guests
You never know whom you might see at a Great Southern Restaurant! Besides being "where the locals go," we're also a favorite spot of celebrities, athletes, politicians, and other distinguished guests to Pensacola, including:
Joe Scarborough
John McCain
Mitt Romney
Emmitt Smith
American Pickers' Mike Wolf and Frank Fritz
Emeril Lagasse
William Shatner
Neil Armstrong
Steve Martin
Below are some of our most recent visitors. Click here to view all the Famous Folks galleries.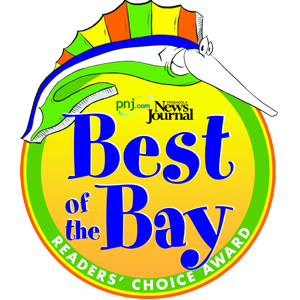 Best Restaurant Overall – The Fish House
Best Fine Dining – Jackson's Steakhouse
Best Seafood – The Fish House
Best Steak Restaurant – Jackson's Steakhouse
Best Outdoor Dining – The Fish House
Best Chef – Billy Ballou, The Fish House
Best Desserts – Jackson's Steakhouse
Best Place to Power Lunch – The Fish House
Best Sunday Brunch – The Fish House
Best Shrimp – The Fish House
Best Restaurant for Romance – Jackson's Steakhouse
Best Gumbo – The Fish House
Best Deck – The Fish House Deck Bar
Best Place to Meet Friends After Work – The Fish House
Best Happy Hour – The Fish House
Best Place to Take Out-of-Town Guests – The Fish House
Best Wedding Reception Venue – The Palafox House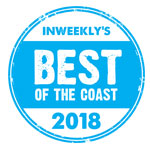 Best Steak – Jackson's Steakhouse
Best Gumbo – The Fish House
Best Desserts – Jackson's Steakhouse
Best Uniquely Pensacola Dish – Grits à Ya Ya, The Fish House
Best Restaurant, Downtown Pensacola – Jackson's Steakhouse
Best Seafood Cuisine – The Fish House
Best Steakhouse – Jackson's Steakhouse
Best Original Menu – Jackson's Steakhouse
Best Chef – Irv Miller, Jackson's Steakhouse
Best-Looking Wait Staff – The Fish House
Best Wait Staff – Jackson's Steakhouse
Best Waiter – Scott Miller, Jackson's Steakhouse
Best Outdoor Dining – The Fish House
Best Place to Splurge – Jackson's Steakhouse
Best Place for a Business Lunch – Jackson's Steakhouse
Best Place for a Birthday Dinner – The Fish House
Best Bar Overall – The Fish House Deck Bar
Best Happy Hour – The Fish House Deck Bar
Best Ladies Night – The Fish House Deck Bar
Best Selection of Wine by the Bottle – Jackson's Steakhouse
Best Local Boss – Collier Merrill