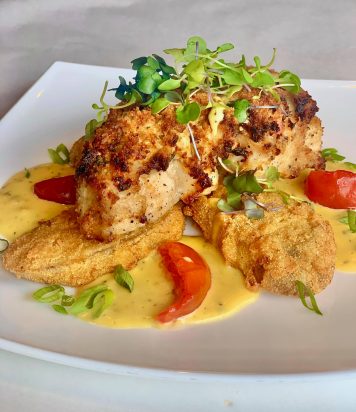 6, 6 oz grouper portions
Crab Stuffing
2 lbs lump crab
2 cups diced onion
2 cups diced fennel
2 cups diced celery
2 cups diced red bell pepper
1/4 cup minced garlic
3 cups heavy cream
1 lb marscarpone cheese
2 tblsp old bay
2 lemons zest and juice
Crab Stuffing: Saute vegetables until they are soft. Add heavy cream and simmer for 15 minutes or until creamy. Remove from heat and stir in marscarpone cheese, add old bay and let cool. Once cool, fold in lump crab with lemon juice and zest.
Place portions of grouper on greased sheet pan and place about 4 oz of crab mixture on top of grouper. Put in oven at 350 for about 10-12 minutes. Once removed from oven, squeeze fresh lemon over grouper and serve.