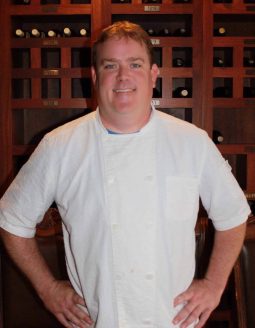 Billy Ballou
Executive Chef, The Fish House, Atlas Oyster House and Great Southern Catering & Events
Chef Billy Ballou has taken over the helm of Great Southern Catering and Events, located within our event venue, the Palafox House. In addition, Chef Billy continues his on-going role of executive chef.
Chef Billy attended Johnson & Wales College in Charleston and studied culinary arts. After college, he went backpacking through Scotland and England, experiencing different cultures and cuisines. Upon his return to the United States, he spent two years as a sous chef for Legendary, Inc., and then moved on to an opportunity with the Great Southern Restaurant Group, where he worked his way from prep chef to executive chef.  He has served as executive chef for Great Southern for eight years.
Irv Miller
Executive Chef, Jackson's Steakhouse
Jackson's founding executive chef, Irv Miller, has prepared dinner at the James Beard house for five one-of-a-kind events. A graduate of the Culinary Institute of America in 1982, Miller began his career as chef along the Florida Panhandle at Destin's first out-of-the-ordinary restaurant, Les Saison's. Chef Miller's cuisine made national acclaim while he presided as the first chef at Seaside's highly successful Bud & Alley's restaurant from 1987 to 1993 during the Florida Cuisine movement. In 1990 Chef Miller was recognized by Carolyn O'Neil, host of CNN's "On the Menu," as one of the originators of the "radical" experiment dubbed "New Florida Cooking," and "a pioneer of Florida Coastal Cooking."
Chef Miller has a distinct style, a powerful vision, and most of all, the ability to translate bold ideas into food that's irresistibly delicious and beautiful. Chef Miller is committed to endorsing the Florida Panhandle's seaward and inland bounties. Chef Miller's Southern-influenced cuisine features the emblematic foods of "Real" Florida, such as Apalachicola oysters and Alligator Point wild-harvested clams, Pensacola and Destin red snapper, North Florida shrimp, grouper, and numerous fish species caught responsibly off the Florida Gulf Coast. In addition, Chef Miller embraces the latest Gulf Coast agriculture from new small growers, small gristmills, tupelo honey from local beekeepers, microgreens and hydroponics from urban farmers, and grass-fed beef from local ranchers along with the finest corn-fed beef from the Midwestern Corn Belt.
For over three decades, many of Chef Miller's recipes and articles have been included in the Pensacola News Journal's "Chef's Corner" column, "Bon Appétit," "Food Arts," "Food & Wine," "Florida Trend," "Florida Living," Birmingham's "Portico" magazine, "Southern Living," "Atlanta Magazine," and the soon-to-be-released "The Lodge Cast Iron Cookbook 2014." Chef Miller is currently working on a Gulf Coast regional cookbook. While performing as television chef/host for WSRE's PBS cooking show "Flavors of the Coast," Chef Miller filmed 51 episodes. More recently, Chef Miller appeared on "Emeril's Florida" TV cooking show promoting Pensacola. He took to the cooking stage for "Coastal Living" magazine's Demonstration Theater at the 26th Annual Sandestin Wine Festival. In addition, Chef Miller represented the Sunshine State at the Great American Seafood Cook-Off 2012.