Thank you so much for considering us for your upcoming special event. For over a decade, we have provided Northwest Florida with premier catering ranging from intimate dinners to large functions for up to 500 or more guests.
With 2 award-winning restaurants to draw from, our Great Southern Catering and Events menu has been carefully crafted by a team of experienced chefs to provide you with a broad range of selections from simple to sublime.
In addition to offering  private event venues  at each one of our restaurants, we also have a dedicated event space, the Palafox House. We can also offer complete catering services at any off-site location of your choosing. For menu options at the Palafox House scroll down below to the catering options that are available, download the Catering Menu PDF , or contact us and we can personally handcraft a menu based on your needs.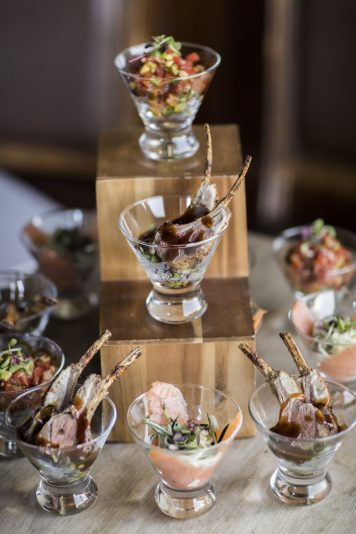 View online or download the PDF
View online or download the Jacksons Catering Menu
For sit-down meals, in either the Fish House, Atlas Oyster House or Jackson's Steakhouse, we have a variety of brunch, lunch and dinner menu options available. Please click on the links above for menus available at each restaurant.
If you're interested in a more interactive event, an hors d'œuvre and cocktail reception may be for you. Instead of having a seated meal, guests stand and mingle with small tapas-laden plates while enjoying cocktails. The variety of hors d'œuvre depends on the length of the party. A good rule of thumb: For a two-hour party, serve at least six different kinds of hors d'œuvre; for a four-hour affair, at least eight.
To schedule your next event with Jackson's Steakhouse, contact us  at 850-433-9450.
To schedule your next event with the Fish House, Atlas, or the Deck Bar contact us at 850-433-9450.
Five Sisters has indoor and outdoor event spaces and a variety of catering solutions to fit your needs. Click here to view our catering menus.
Click here to see our on-site venues — The Courtyard and The Record Room — available for your private event.
Also take a look at our "Grab and Go" menu for a simple and cost-effective way to feed your group.
To schedule your next event with Five Sisters Blues Café, contact us at 850-433-9450
All prices are per person •  Selections require a minimum of 20 guests •  Groups of 20 or more will select from our private event menu
Great Southern Catering and Events Menu
Prices may vary due to Covid
À La Carte Hors D'œuvre
Salads
Fresh-made salad starters or displays
-$8 per item, per person-
Displays
All priced per person
Chef's Stations
75.00 chef fee for carving station
-All priced per person-
Freestanding Stations
Duo Entree Options


*Not available at this time*
Plated Dinner Selections
*Not available at this time*
Bistro Bites
~minimum order of 20 pieces~
only available on Saturday
Brunch Stations
Only available on Saturday
| | |
| --- | --- |
| -All priced per person- |   |
| Biscuit Station fresh baked biscuits served with applewood smoked bacon, sausage patties, sliced cheddar cheese, country gravy, tomato gravy, and assorted jams | 7.5 |
| Chicken Waffle Bar southern-style fried ginger chicken and waffles served with  maple syrup, blueberries, strawberries, chocolate chips, and whipped cream | 11 |
| Mini Croissant Trio Buttery- crusted mini croissants filled with tuna salad, chicken salad, pimento cheese. | 8 |
| Grits a Ya Ya toppings include: shrimp, bacon, red onions, green onions, and shredded cheese | 8.5 |
| Scrambled Egg Bar With bacon crumbles, smoked sausage, cheddar cheese, pico de gallo, sour cream, scallions, diced tomatoes | 10 |
Southern Brunch Sides
4.5 per person, choose 3
| | |
| --- | --- |
| Cheese Grits loaded with smoked Gouda cheese | 4.5 |
| Steamed Asparagus with a lemon butter sauce | 4.5 |
| Seasonal Grilled Vegetables Zucchini, yellow squash, red onions with an herb vinaigrette drizzle | 4.5 |
| Tater Tot Casserole Golden tater tots, loaded with cheese, and finished with a crispy topping | 4.5 |
| Pasta Salad with grape tomatoes, cucumbers, feta, and parsley tossed in a herb vinaigrette | 4.5 |
| Fruit Salad Fresh-chopped seasonal fruits shaken with strawberry vinaigrette topped with shaved almonds | 4.5 |
Brunch Drink Stations
| | |
| --- | --- |
| Mimosa Bubbles Bar– champagne, orange juice, cranberry juice, blueberries, strawberries ~ priced per person | 8 |
| Bloody Mary Bar- Build your own Bloody Mary: Fish House Hot Sauce, Tabasco, pickled green beans, pickled okra, celery, lemons, limes, olives, seasoning salt for the rim~ priced per person | 12 |
À La Carte Dessert Selections